These Are The Fashion And Beauty Brands Donating to LGBTQIA+ Causes During Pride Month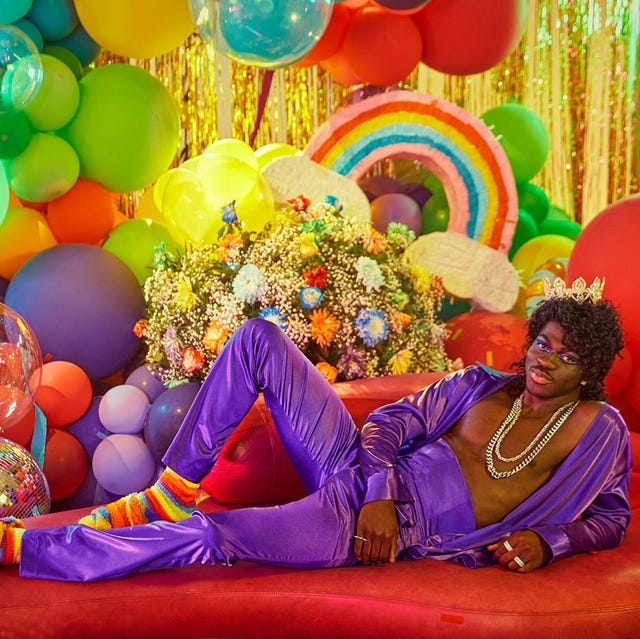 Ugg
June is Pride Month, and these 19 brands are stepping up and giving back to the LGBTQIA+ community.
Pride Month originated as a way to commemorate the Stonewall Riots in New York City that ended in June of 1969. The Stonewall Riots were spontaneous demonstrations by the gay community in response to a police raid at the Stonewall Inn in Greenwich Village. A tipping point in the Gay Liberation Movement, the community initially commemorated the Stonewall Riots for a day in the end of June, but it has since evolved to a month-long commemoration.
It takes more than flying rainbow flags, turning logos rainbow-colored, or posting an Instagram picture to show support now. While some brands are continuing to be an ally to the LGBTQIA+ community, many are taking it a step further and donating to philanthropic causes to pledge their support. Check out these fashion & beauty brands below that are donating to LGBTQIA+ causes for Pride Month.
1
Ugg
Ugg announced its Pride capsule complete with fuzzy slippers, sweatshirts, and T-shirts. In addition to hosting a PROUD Prom with Pacific Pride Foundation for the fifth year, Ugg is also donating $125,000 to GLAAD. This year's virtual prom included names like Lil Nas X and Hari Nefis to celebrate inclusivity with the LGBTQIA+ and allied youth from Santa Barbara and surrounding California coastal communities.
2
Michael Kors
Michael Kors' Pride capsule features this special-edition T-shirt. All proceeds from the sale of the gender-neutral T-shirt will be donated to OutRight International throughout the month of June.
3
Ralph Lauren
Ralph Lauren released its Pride capsule and announced that 100 percent of the purchase price of the polo shirt will be donated to the Stonewall Community Foundation, while 25 percent of the purchase price of several other pieces will be donated. The brand also announced its first Pride eyewear campaign, which will donate 25 percent of the purchase price to the Stonewall Community Foundation as well.
4
NYX
NYX Professional Makeup is celebrating ballroom for this year's Pride Month. Its Pride 2021 Collection includes highlighters, liners, and a palette all dedicated to the boldness and confidence of ballroom. The brand is making a donation to the Los Angeles LGBT Center.
5
Ouai
Celebrity hairstylist Jen Atkin's hair care brand just launched its St. Bart's Scalp and Body Scrub that's perfect for celebrating the beginning of summer and all the vacations we've been missing the last year. The brand is donating $20,000 to the Los Angeles LGBT Center.
6
Grigri
Beaded accessories brand Grigri is celebrating Pride Month with a a limited-edition #LOVEWINS capsule. The LGBTQ+-owned brand has created a hand-beaded phone strap and T-shirt; 20% of the net proceeds will go to ItGetsBetter.Org, a charity focused on supporting and normalizing sexuality.
7
Reebok
The sneaker brand has teamed up with House of Ninja to create a special campaign highlighting the fierceness of ballroom. Reebok is donating $75,000 to the Sylvia Rivera Law Project as well.
8
Teva
In addition to a $35,000 donation to the Human Rights Campaign Foundation, the sandal brand created a unisex Pride capsule that includes rainbow sandals.
9
Dr. Martens
The brand reinvented its iconic 1461 Oxford Loafer for Pride, with the classic black leather loafer now including some rainbow stitching, rainbow laces, and a rainbow flag. Dr. Martens is also donating $100,000 to The Trevor Project.
10
Herbivore
Herbivore founder Julia Wills dedicated the brand's Prism collection to the LGBTQ community. This year, the brand is donating $1 for each Prism product sold to The Trevor Project with a minimum commitment of $75,000 in 2021.
11
Kate Spade
Kate Spade's Pride Month capsule, The Rainbow Collection, is centered around the rainbow motif. The collection includes totes, cosmetic bags, an AirPods case, and a sweater, and the brand will be donating 20 percent of profits to The Trevor Project for the second year in a row.
12
Touchland
The perfect buy right now as we continue to constantly sanitize our hands, Touchland's Rainbow Collection includes eight hand sanitizers to keep us stocked up. Throughout the month of June, 10 percent of sales from the Rainbow Collection will go to the Miami-based Pridelines Community Center.
14
Harry's
Harry's teamed up with several members of the LGBTQ+ community, including Jonathan Van Ness, to distribute 100% of the profits of Harry's Shave With Pride set to charities that are meaningful to them. Some of the charities include GLSEN, GLAAD, and True Colors Fund.
15
Bombas
Bombas created a Pride capsule including rainbow socks, T-shirts, and underwear. For each item purchased from this collection, an item will be donated to an organization helping those experiencing homelessness in the LGBTQ+ community, including organizations like Casa Ruby and Mozaic.
16
Olay
Olay is launching a limited-edition version of its Regenerist Micro-Sculpting Cream, as well as two gift sets, for Pride Month this year. The brand is also donating $75,000 to The Trevor Project and supporting iHeart Radio and P&G's Can't Cancel Pride, a celebration to raise visibility and funds for the LGBTQ+ community.
17
Gap
Gap is celebrating Pride with a collection of items ranging from T-shirts to hats designed by artists within the Gap Collective community. Alongside this collection, the brand is donating $50,000 to GLAAD.
18
Leland Francis
This Leland Francis Ruby Gertrude Apothecary Pansy Candle was created to give back to the community. The name is a reclamation of the term pansy, and the candle is inspired by the flowery plant. Net profits from the sale of each candle will be donated to GLSEN.
19
The Accessory Junkie x Satchel Lee
This collaborative line includes 15 pieces including jewelry and bags. Pieces are made to order and will be available to shop on The Accessory Junkie's website starting June 1. The collection supports The Human Rights Campaign with 15 percent of total sales from select items in the collection being donated to HRC.
This content is created and maintained by a third party, and imported onto this page to help users provide their email addresses. You may be able to find more information about this and similar content at piano.io