In the late 2000s, we got to know Miranda Kerr as the first-ever Australian Victoria's Secret Angel, and since then we've gotten the pleasure to know her as a mother, founder, and advocate for organic and natural skin care. Here, the supermodel practices self-care Sunday as she double-masks, drinks fresh tea, and indulges in LED, aroma, and crystal therapy. As she uses products from her own skin-care brand KORA Organics, Kerr practices what she preaches in the most wholesome way—and we're here for every minute of it.
What activities and/or products do you love to lift your spirits and alleviate stress?
"I've been using meditation as a powerful tool for over 10 years now, and it really helps me a lot. I try to meditate for around 20 minutes first thing in the morning before the kids wake up and last thing at night after the kids are asleep. Depending on how I'm feeling in the morning, I'll either do Kriya Yoga, TM meditation, or use an app like Insight Timer. At night, to calm myself down if I'm unable to sleep, I'll often do a guided meditation from Insight Timer or recite my TM mantra until I fall asleep. I also really enjoy aromatherapy to help lift my spirits or create a nurturing atmosphere. I love diffusers and using essential oils around the house—my favorites are peppermint to invigorate, sandalwood for centering, and geranium, rose, and neroli for a nurturing sensory experience."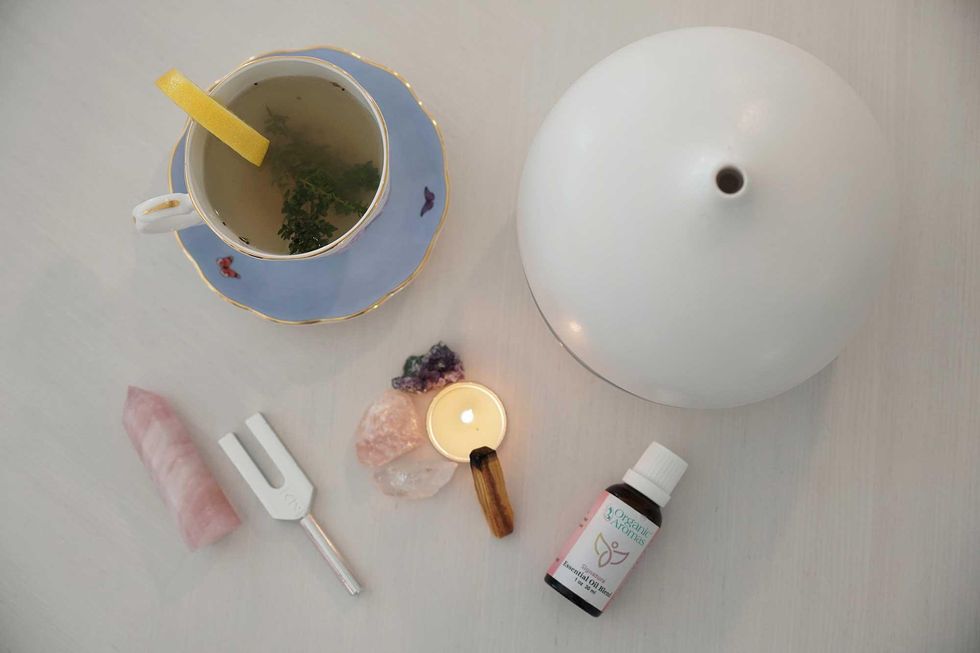 Photo: Courtesy of Miranda Kerr
What activities and/or products do you love to take care of your body?
"I love dry body brushing and try to make it a priority every morning before I shower. It's a great way to get my circulation going and remove dead skin cells. My Noni Glow Body Oil is a wonderful companion for body brushing—I apply it to my entire body and massage in circular motions moving up my body. I also love to Gua Sha massage. I use some Noni Glow Face Oil and then use our Rose Quartz Facial Sculptor in upward motions. It really helps to stimulate circulation, de-puff, lift, and sculpt your face—it also helps the oil absorb deeper into the skin."
If you have an entire day to yourself, without any responsibilities, where are you, and what are you doing?
"If I had an entire day to myself with no responsibilities, I would be catching up on sleep and getting a massage! And my children's grandparents would be watching them."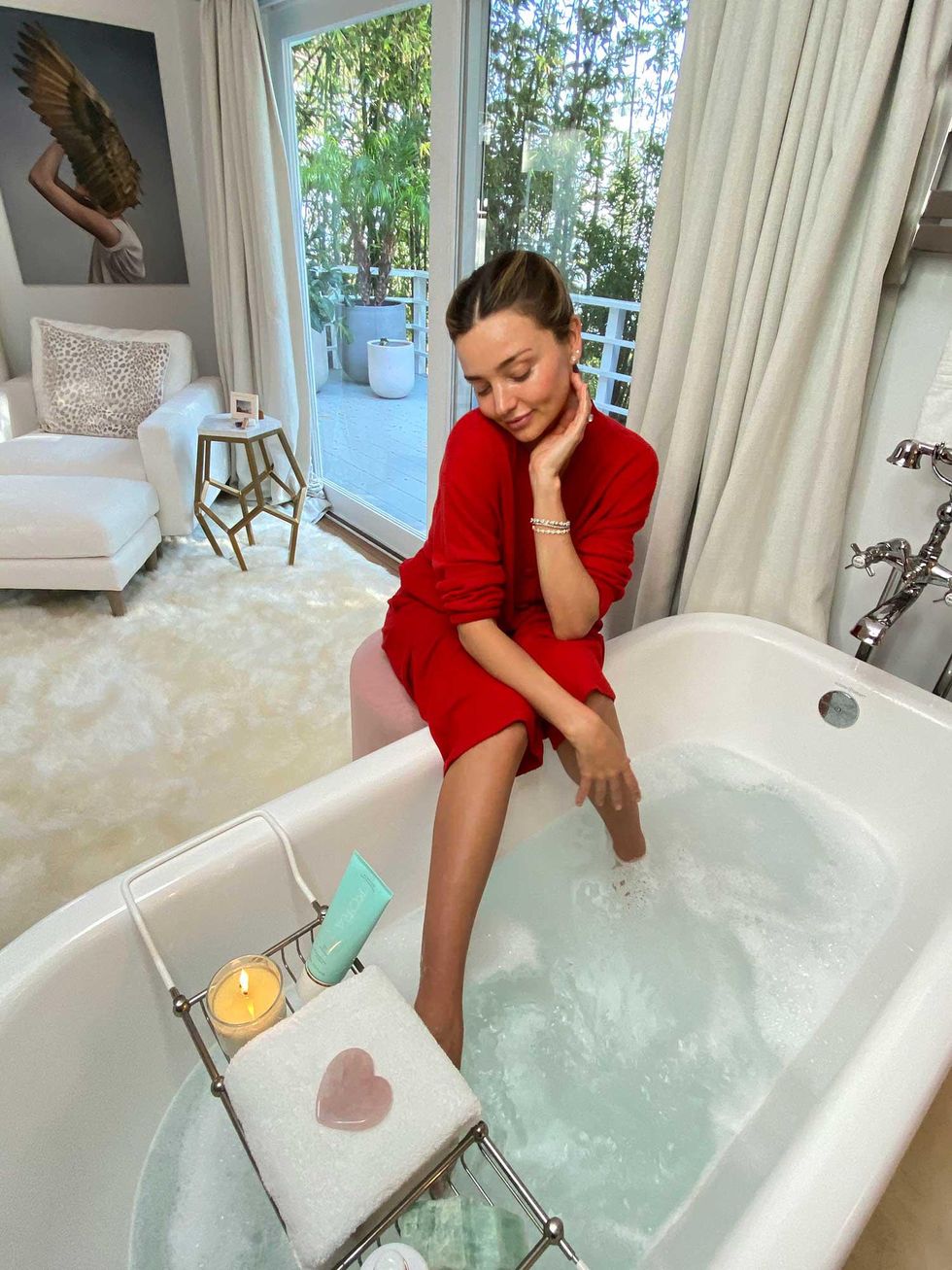 Photo: Courtesy of Miranda Kerr
What are your five to10 must-have products for self-care and beauty?
"For self-care, the KORA Organics Turmeric Exfoliating & Brightening Mask and Noni Glow Face Oil. These two products are like an at-home facial. The turmeric mask can be used as an exfoliating scrub or leave-on mask. It brightens, deeply cleanses, and evens skin tone and texture. If you use this product once, you will see instant results. Your skin is immediately brighter, taut, and super smooth. Then I follow it with the Noni Glow Face Oil, our signature product. I've been using our face oil for just over 10 years (it was one of the first products I created), and I can't go a day without it. My other beauty must-haves include RMS Beauty Un Cover-Up Concealer in 22—it's my go-to natural makeup and was created by a makeup artist and friend of mine. I also use KORA Organics Rose Quartz Luminizer on the top of my brow and cheekbones, Cupid's bow, and collar bone—it's the perfect highlight for these features, and it leaves you feeling really natural in your skin. And for my lashes, a little mascara goes a long way with Charlotte Tilbury's Legendary Lashes or Push-Up Lashes. Also love Kosas Sport Lip in Pulse for a pop of natural color on my lips and cheeks."
Are there any special (or unusual) self-care or beauty practices that you swear by?
"I love celery juice. Every morning, on an empty stomach, I drink 32 ounces of organic, cold-pressed celery juice. Celery is amazing, as it's a powerful anti-inflammatory, supports kidney function, is alkalizing, and is also full of electrolytes."
Shop Miranda's Favorite Products: