How to Shop Like Lauren Chan
Welcome to our How to Shop Like series, where we spotlight personalities within the fashion industry and take a deeper look at their personal relationships with style and how they shop—think all the best insider tips and tricks. This week we're chatting with model, size-inclusive fashion advocate, and the founder/CEO of Henning, Lauren Chan.
Multi-hyphenate creative Lauren Chan—she's a model, founder, CEO, writer, editor, need we continue?—has a lock on personal style. She's figured out what she's comfortable in—physically, of course, but more so stylistically. Upon deconstructing her ensembles, you'll find they often consist of simple separates expertly layered to create a clean, polished effect. Her go-tos are the basics: blazers, button-downs, denim, with the occasional geometric print (often in black and white) thrown in the mix to shake things up. She also has an affinity for vintage and spent a great deal of time amid the pandemic scrolling through the RealReal—we're sure many can relate. Below, we've gathered Chan's tips for shopping, along with the items she's keeping on rotation this summer.
Shop Lauren's Current Picks:
Fashion versus style—what's the difference to you?
"To me, fashion is cultural, and style is personal."
Do you have a uniform?
"I do! I tend to wear some mix of a blazer, t-shirt, soft button-downs, jeans, jean shorts, sentimental gold jewelry, sneakers, loafers, or slides. If I'm honest, loungewear has become a possibly permanent part of that rotation. This summer I've been wearing the Henning knit dress and Henning bike shorts nonstop."
In your opinion, what fashion items are worth the splurge? And vice versa, what can be done on the cheaper side?
"IMO, classic pieces—think suiting, outerwear, accessories, high-end knitwear, and denim—that are super well-made are worth splurging on. If I can see myself wearing the item for years to come and I think it will stay in wearable shape, I treat myself. For trendier items, I spend less by shopping them secondhand."
Favorite purchase of all time?
"I have a few: my Henning leather jacket (shameless plug!)—it's an Acne-level jacket made for plus sizes—my black Loewe flamenco bag, and my Lauren Addison wedding signet ring."
Thoughts on dressing for your body type?
"Don't. Instead, try this revolutionary concept: Just wear whatever you want."
Aside from your own label, who are some designers that have impressed you in the plus-size category?
"Some designers I love that make extended and/or plus sizes are: Tamara Malas, Wray, Chromat, Hanifa, Christian Siriano, Tanya Taylor, Prabal Gurung, Brandon Maxwell, Mara Hoffman, et cetera. As far as brands go: Anthropologie, J.Crew, Mango, Bandier, Nike, et cetera."
Any summer style icons inspiring you right now?
"There's a photo of Rihanna that went viral a few months ago—she's wearing a colorful, soft, short-sleeve button-down and denim shorts, which is pretty much how I dress all summer. I will say, though, that I am—obviously—not Rihanna, so I substitute her heels for Birkenstocks or sneakers."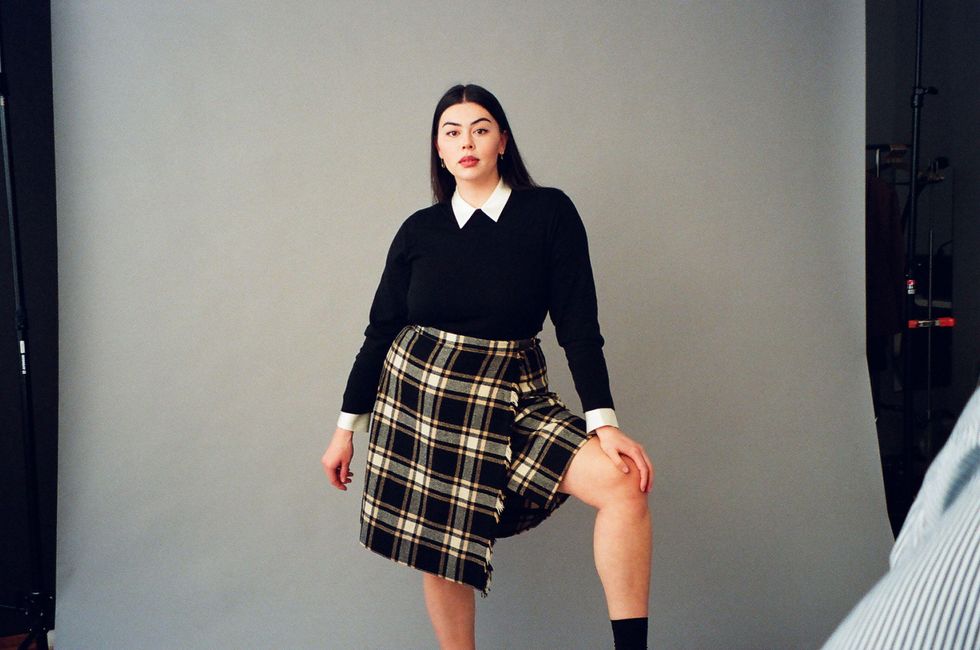 Photo: Courtesy of Lauren Chan
Favorite spots for online shopping? Favorites to visit in person?
"
The RealReal is my favorite way to shop right now. Their app is like a game—you can create lists that automatically update as they get new stock, and since everything is vintage and there's only one of each item, it's like a race to the best pieces. (Can you tell I haven't had much to do during quarantine? Ha!)"
Fashion bucket list: What are three items you would love to own one day (regardless of price)?
"To be honest, I made most of my bucket-list items with Henning:
a double-breasted blazer, a classic leather jacket, and a seasonless trench. If I were really dreaming, I'd say a custom Armani suit (he makes my favorite men's suiting, which I regularly buy vintage), a large CHANEL boy bag, and actually, on my wish list right now is the new Loewe pleated Flamenco bag."
Vintage or new?
"If I had to choose, vintage. I love the RealReal,
Tradesy, and Rebag."
What percent of your wardrobe is made up of basics? Of statement items?
"It's probably a 90/10 split."
The mark of a great outfit?
"Confidence. And a great bag or jewelry."
Any tips for scoring high-quality pieces at lower price points?
"Shop vintage!"
Which items do you have on heavy rotation every summer?
"Bike shorts, vintage tees, short-sleeve button-downs, denim knee-length shorts, slides, and sneakers."
What items do you wear every day?
"Whatever bag I'm using at the moment—right now it's a striped Loewe tote—and my gold jewelry, which currently means my
Last Line initial huggie, Baublebar gold safety-pin earring, grandmother's gold-and-jade necklace, and my wedding band."
Favorite people to follow on Instagram for style inspiration?
"Right now I love following
@ssun.1o, @champagnemani, @vanessahong, @mariaalia, @himichelleli, @nicolettemason, @preciousleexoxo, @double3xposure, @itsmekellieb, @girlknewyork, @leenalghouti, @palomija, @onlymakmill, @alyssainthecity, @alessandragl, @mollyconstable, et cetera."
window.REBELMOUSE_ACTIVE_TASKS_QUEUE.push(function(){
window.REBELMOUSE_STDLIB.loadExternalScript("https://htlbid.com/v3/coveteur.com/htlbid.js", function() {
});
});
window.REBELMOUSE_ACTIVE_TASKS_QUEUE.push(function(){
!function(f,b,e,v,n,t,s){if(f.fbq)return;n=f.fbq=function(){n.callMethod?n.callMethod.apply(n,arguments):n.queue.push(arguments)};if(!f._fbq)f._fbq=n;n.push=n;n.loaded=!0;n.version='2.0';n.queue=[];t=b.createElement(e);t.async=!0;t.src=v;s=b.getElementsByTagName(e)[0];s.parentNode.insertBefore(t,s)}(window, document,'script','https://connect.facebook.net/en_US/fbevents.js');fbq('init', '1248680838922690');fbq('track', 'PageView');
});