How to Shop Like Eny Lee Parker
Welcome to our How to Shop Like series, where we spotlight personalities within creative industries and take a deeper look at their personal relationship with their craft and how they shop—think all the best insider tips and tricks. This week we're chatting with designer Eny Lee Parker.
Between asymmetrical ceramic vases, "lumpy" side tables, and bulbous lamps that each double as sculptures, designer Eny Lee Parker obviously gravitates towards silhouettes that are attention-grabbing in nature. That said, all rendered in muted hues, her statement-making designs would slot seamlessly into a variety of spaces. The same can be said for her personal style with respect to both interior design and fashion—interesting yet demure silhouettes in an unassuming color palette (most of the time).
Parker, who kickstarted her business by way of instagram, has been involved in the arts since an early age. Born to Korean parents and raised in Brazil, she studied interior design in school after immigrating to the USA at 13 years old and launched her studio while she was still in graduate school. The studio focuses on "ceramics as the main medium for lighting and furniture." Discover more about her approach to curating a space, her favorite designers, and where she looks for inspiration below.
Shop Eny Lee's Picks:
When did you first fall in love with interiors?
"It was actually suggested to me as a career while I was in high school. I attended an art portfolio program, and at that time I was focusing on painting. My teacher saw a series I did with a bathroom and rubber duckies, and he thought I did a good job painting in perspective. So he told me to try out drafting pencil and Prismacolor markers (back then, that was still a thing). Looking back, that was probably not enough reason to suggest a shift of career, but it wasn't very different from fine-art painting. I was just imagining spaces and putting them down on vellum paper instead of a canvas."
Why did you decide to launch your own collection?
"I was approached by a design platform (Sight Unseen) to participate on their show Offsite back in 2017. At the time, I was still in school and I don't think they knew that until after the fact. They were very supportive, and honestly, I went in naively. I didn't put forth pricing, and all the pieces I presented were things I had made in school, so if anybody was interested in them, I hadn't worked out details on how to duplicate them. I faked it hard and had to learn and catch up real fast."
What does personal style mean to you, and how would you describe your own?
"I used to think personal style was about expressing your personality to others, but now I think it just reflects how you want to feel. At work, I want to be comfortable and confident. I usually wear oversize men's shirts, hoop earrings, sweatpants, and sneakers. For any other occasion, I dress accordingly if I want to feel sexy, creative, classical, or even supportive of something. For example, lately I've been enjoying learning about Korean artists and designers, so I've been shopping for more Korean brands like Rejina Pyo, J.Kim, Aeri Go Jewelry, etc."
Favorite thing to splurge on?
"For a big splurge, paintings. For a smaller one, shoes."
Favorite purchase of all time?
"Right now, a commission painting by Jordy Kerwick, based in France. I've been following him for a minute and was so excited when he agreed to create a piece for my house."
Where do you look for inspiration?
"Friends and old things like antique shops and vintage magazines. When travel was still a thing, I tried to go somewhere twice a year for respite and an inspiration boost."
What has designing your own pieces taught you about interior curation?
"A lot of the pieces I had designed stemmed from a particular project with a client. There is always an existing space in mind. I'm comfortable with that, possibly because of my background in interiors. It wasn't until I recently purchased an old house that I started designing with myself in mind. I still have guidelines, though. I design with the mindset that the piece will be living with other things, so they are usually more subtle in color and entity."
How does your interior design style compare to that of fashion?
"For interiors, I think it's too early for me to know… I'm assuming it might be similar to how I feel about clothes? I want to feel at peace in my home. I also want to be surrounded by things made by people I admire. And as of now, I prefer neutrals and deep tones, organic or handmade versus overly machined products. Low-key, I love a little country vibe, too."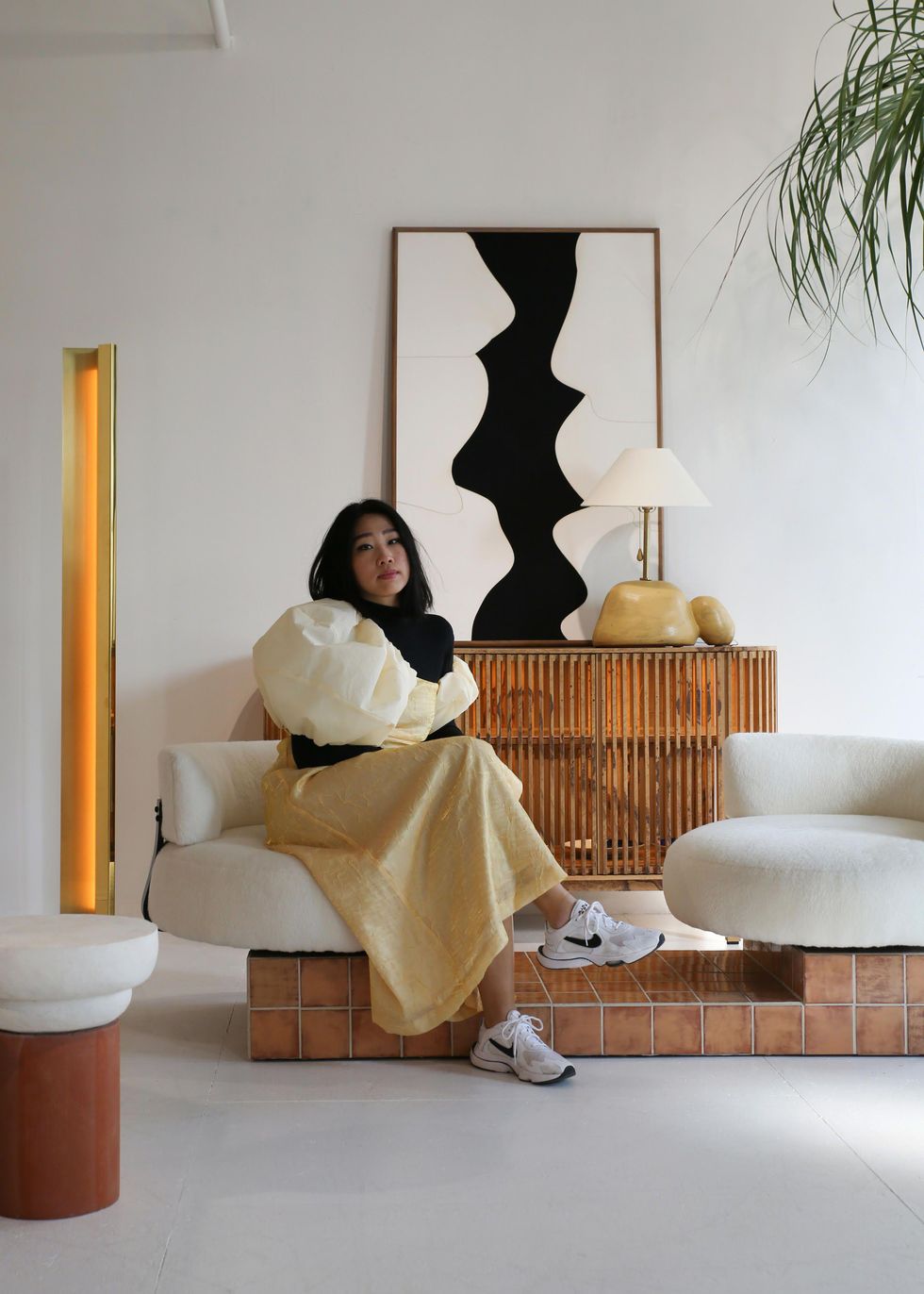 Photo: Courtesy of Eny Lee Parker
Which stores do you frequent?
"Chairish for vintage furniture. My friend Geraldine has a store called LCD in Los Angeles. She has a great eye and group of designers for fashion. My friends also have a furniture showroom called Love House, and they are so good at finding independent artists/designers. I've been getting a few things there when I can save up some money."
The mark of a well-curated home is….
"The people you invite in. Honestly, homes are so personal. I want to say, yes, there are a few things I'd recommend you not to do, but you should feel the happiest at home. Do whatever makes you happy. I didn't grow up in a well-curated home, I just have a lot of memories of my mom cooking for all my friends. So perhaps a well-curated home for me means a lot of clutter and the people in it."
Favorite finishing touches to add to a home?
"Anything that goes on top of a dining table: dinner plates, glasses, tablecloth, cutlery, fruit bowls, etc."
What would your home be full of if money were no object?
"It'd be full of commissions by young artists and designers I love, and I wouldn't say no to a Degas or some ceramics by Picasso."
Vintage or new?
"If the house is old, new by independent artists/designers. If the space is new and modern, then vintage."
Favorite accounts to follow on Instagram?
"@lovehouseny, @candagarslani, @guglielmocastelli, @aoc, @cancersznisforever, and @supply_seoul."
Who are your favorite brands for a splurge? What about your favorite affordable brands?
"Lately, I'm into Rejina Pyo, old Valentino, Maison Margiela, Last Heavy, Simon Miller, Loewe. As for affordable, Goodwill is not a brand, but I buy all my studio clothes there. Converse or Vans. Secondhand stores are the way to go for affordable."
If you could live in one era or location simply for the design, which would it be?
"1921, when Brancusi started mentoring Isamu Noguchi, also Eileen Gray was in some sort of drama with Corbusier and Jean Badovici—would have loved to know the tea. Joan Miro was into surrealism I believe, and so was Picasso."