Drunk Elephant Umbra Sheer Physical Daily Defense SPF 30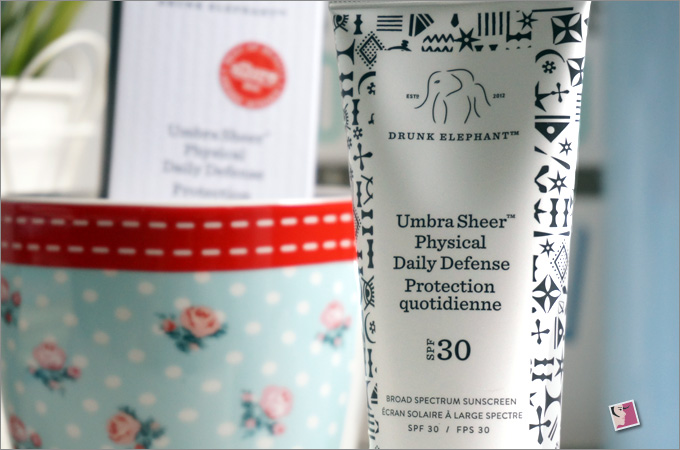 For my first post of 2019, I decided to review a new physical sunscreen I've been loving. The Drunk Elephant Umbra Sheer Physical Daily Defense SPF 30. If you're looking for a natural, 20% zinc oxide physical sunscreen, I invite you to read on.
I'm sure like me, many of you are intrigued by the brand name, Drunk Elephant. I don't know what the name conjures up for you but for me, it's an intoxicated elephant complete with stampede, destruction and chaos. Not very pretty. 
Of course the creator of the brand has nothing of that in mind. But other than knowing that Drunk Elephant is formulated, tested, and made in the United States, the brand name remains a mystery. Then again, perhaps that's their clever way to intrigue and pique curiosity.
Anyway, I'm usually quite bored with the backstory of most green beauty brands. The spiel sounds kinda same-same after awhile: From how they or their kids have skin issues, but nothing off the shelves work for them, to how they concocted their perfect DIY product and then their first batch in their kitchen. 
Drunk Elephant brand philosophy
Drunk Elephant's reads along that line. But perhaps their brand philosophy stands out a wee bit more to me than the typical green beauty brand because of the way they choose their ingredients.
Instead of just focusing on what's natural and avoiding what's synthetic, the brand uses only biocompatible ingredients that skin can recognize, accept and process. Their formulations are also fragrance-free.
If you consider how Drunk Elephant avoids what they call the "Suspicious 6" in their products, namely essential oils, drying alcohols, silicones, chemical screens, fragrance/dyes and SLS, they certainly qualify as a green beauty brand. But probe deeper and you'll realize Drunk Elephant is unlike most green brands in terms of how they formulate their products.
In their words, "we focus on pH levels and safety, and always making sure that the active ingredients are at efficacious levels." This just means that their products may work better for those with sensitive or sensitized skin. At the same time, they'll deliver results for people looking out for product performance. 
If I were to describe them, I would liken them as a power up version of dermatological friendly products (think Cetaphil, Physiogel, QV, etc). 
20% zinc oxide mineral sunscreen
I think I came across Drunk Elephant some two years ago. I only took note of them because their sunscreen contains 20% zinc oxide. It looks like an ideal broad spectrum sunscreen and I was very keen to try.
Unfortunately, the product wasn't so accessible as they only ship within the United States. But thankfully, Sephora brought in the brand and that's how I got hold of my first tube of  Drunk Elephant Umbra Sheer Physical Daily Defense SPF 30.
Here's how their ingredient list looks like:
Active ingredients:  zinc oxide 20%Inactive ingredients:  water, caprylic/capric triglyceride, dicaprylyl carbonate, pentylene glycol, glycerin, steareth-2, propanediol, steareth-21, polyhydroxystearic acid, cetearyl alcohol, silica, sclerocarya birrea seed oil, aloe barbadensis leaf extract, chondrus crispus extract, haematococcus pluvialis extract, helianthus annuus (sunflower) sprout extract, vitis vinifera (grape) juice extract, helianthus annuus (sunflower) seed oil, simmondsia chinensis (jojoba) seed oil, raspberry seed oil/tocopheryl succinate aminopropanediol esters, hydrolyzed wheat protein, tocopheryl acetate, tocopherol, sea water, acetyl glucosamine, cetearyl glucoside, sodium stearoyl glutamate, tetrahexyldecyl ascorbate, glycine, sucrose, lecithin, triethoxycaprylylsilane, xanthan gum, trisodium ethylenediamine disuccinate, caprylhydroxamic acid, caprylyl glycol, phenoxyethanol, chlorphenesin, sodium dehydroacetate, iron oxides (CI 77491)
I didn't like the tube packaging initially, thinking it'll get out of shape with every squeeze. That didn't happen though. It was comforting that the shape of the tube didn't change much after using it for 3 months now. 
This moisturizing physical sunscreen is ideal for daily use and won't leave any ghost-like white residue. It is true when they state that their sunscreen melts into skin, feels lightweight and is virtually invisible. You won't need to use it over any moisturizer. But I would recommend using it over some hydrating serum.
Best for dry to combination skin
I have combination skin and I find this product a tad oily as it leaves my skin looking rather shiny after application. But it's fine after I put on some powder or foundation. It doesn't dry out my skin and it doesn't cause my face to look any oilier by the end of the day. And I also didn't experience any peeling or streaking. I'm sure it helps that I use it over properly hydrated skin.
I most certainly am very pleased with this product and will continue using it. Perhaps it isn't the most ideal but this is one of the very few 20% zinc oxide mineral sunscreens that works well for me, leaving my face looking normal until the end of the day. 
But I think this sunscreen works best for those with dry to combination skin. I can't say it'll work great for those with oily skin. Like I mentioned, it isn't heavy but it does leave the skin looking a tad oily when used alone.
In Singapore, you can only get the Drunk Elephant Umbra Sheer Physical Daily Defense SPF 30 at Sephora ION or Sephora online.Maybe some of you might find the price tag of S$48 expensive. But because I am always willing to pay for my sunscreens so this price is still reasonable for me. Plus this 90ml tube can easily last 6 months. I've used this for the past 3 months and I'm pretty sure I can use it for another 3 months or even more.
Drunk Elephant also has a tinted version–the Umbra Tinte Physical Daily Defense SPF 30–that works for those with darker skin tone. But it cost more at S$52 for a 60ml.
Any of you tried this sunscreen? Or anything from Drunk Elephant? If you have, do share your thoughts with me in the comments section!
---
Product highlighted was purchased and this review is in line with my disclosure policy.
Drunk Elephant Umbra Sheer Physical Daily Defense SPF 30
S$48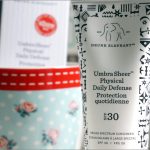 Pros
No visible white cast
Easy to apply
Non-drying
No fragrance
90ml last a long time
Cons
A tad oily
Cannot be used alone