Couture Fashion Week Highlights: Kim Jones' Fendi Debut, Alber Elbaz's New Venture, and more
By Rosana Lai
January 29, 2021
From Kim Jones' much-anticipated first couture collection for Fendi to Chanel's intimate wedding setting, we're listing all the best moments from Couture Fashion Week 2021
The much-anticipated couture collection by Fendi's new head honcho Kim Jones was finally revealed this week and it did not disappoint. Drawing from his time spent at Charleston Farmhouse, the 16th-century Sussex retreat of the Bloomsbury where he grew up and now owns a house, the references can be found on the frescos and marble prints painstaking embroidered onto majestic gowns. Given that this is Jones' first foray into womenswear from a career in men's, there were elements of masculine shapes as expected—like a spliced tuxedo jacket sleeve attached to a dainty off-shouldered column—and even male models shod in dresses and capes. Those who modelled the romantic collection were superstar friends of the Italian house and of Jones, including Demi Moore, Kate and Lila Moss, Christy and James Turlington, Adwoa and Kesewa Aboah and of course, Naomi Campbell, while the earcuff-chandelier earrings were created by Delfina Delettrez, daughter of Silvia Venturini Fendi, making the entire performance a beautiful family affair. 
Maria Grazia Chiuri leaned heavily into Monsieur Dior's love of the divination arts this season, creating a short fashion film and entire collection around mystical characters found tarot cards. Classic Dior shapes and draping were heavily embellished and embroidered in gold thread with tarot symbols like that of death or the high priestess. A particularly enchanting number involved a gold, balloon-sleeved dress with what looks like printed appliqué but are in fact hand-painted velvet flowers stitched onto jacquard. 
Virginie Viard wanted to create an intimate setting of a family garden wedding for this couture collection, complete with a petal-coated runway, floral arches and rose crowns, attended only by Chanel ambassadors Penélope Cruz, Marion Cotillard, and Vanessa Paradis and her daughter, Lily-Rose Depp. The sentiment was reflected in the collection of simple yet sweet dresses, petticoats and cardigans adorned with embroidery by Lesage and floral work by Lemarié of course. The bridal number, a conservative brocade gown that looks to have walked straight out of Bridgerton, was worn by model on a white horse, befitting of a fairytale wedding. 
Valentino: Set in the gilded halls of Galleria Colonna in Rome, Pierpaolo Piccioli put forth an dazzling display of couture. Casual numbers bordering on the read-to-wear category of billowing trenches or sleek shift dresses in Valentino colours of pinks, whites and reds gave way to more intricate and dramatic pieces of diaphanous skirts and crowd-favourite cape gowns. The collection culminated in sparkling columns of gold and silver with a weighty pearl jumpsuit (complete with a matching skull cap) being a highlight. The inclusion of menswear for the first time and sky-high glittering platform boots were the talk of the town. 
Iris Van Herpen: Entitled "Roots of Rebirth" Iris Van Herpen continues to merge technology with fashion, this time with an extraterrestrial collection of gowns that seem to flutter as the models walked, its lines and shapes inspired by those of roots and spores. On other pieces, spindly, roped columns look like liquid copper while fanned, finned like fabrics radiated outwards of other beautiful, aquatic shapes.
Armani Privé: As one might expect to see, Giorgio Armani's latest collection was filled with beads and crystals, found on ethereal capes layered over sparkling columns for a mesmerising effect. Transparent sheaths and cascading, pastel florals also made up some of his most delicate pieces, while some of his other favourite details also came to the fore, including velvet rose bows at the neck and flowing, palazzo trousers. 
After a five-year hiatus from fashion design since leaving his post as Lanvin's creative director in 2016, beloved Israeli designer Alber Elbaz is back with a new venture backed by Richemont. "I wasn't in love with fashion anymore and I needed to find my way back into love," he tells us. During the five years, Elbaz paid closer attention to the zeitgeist and taught at schools, discovering that fashion was in need of a change. Enter AZ Factory, a "solutions-driven" brand, the first drop of which is a collection of athleisure-meets-couture pieces. Think scuba-suit tops made from performance fabrics with flouncy princess sleeves or a drop-waist peplum skirt. Oh and pointed sneakers. "So many women tell me they miss pumps because the chunky sneakers now are unflattering on their legs, so I made sneakers with pump-shaped toes!"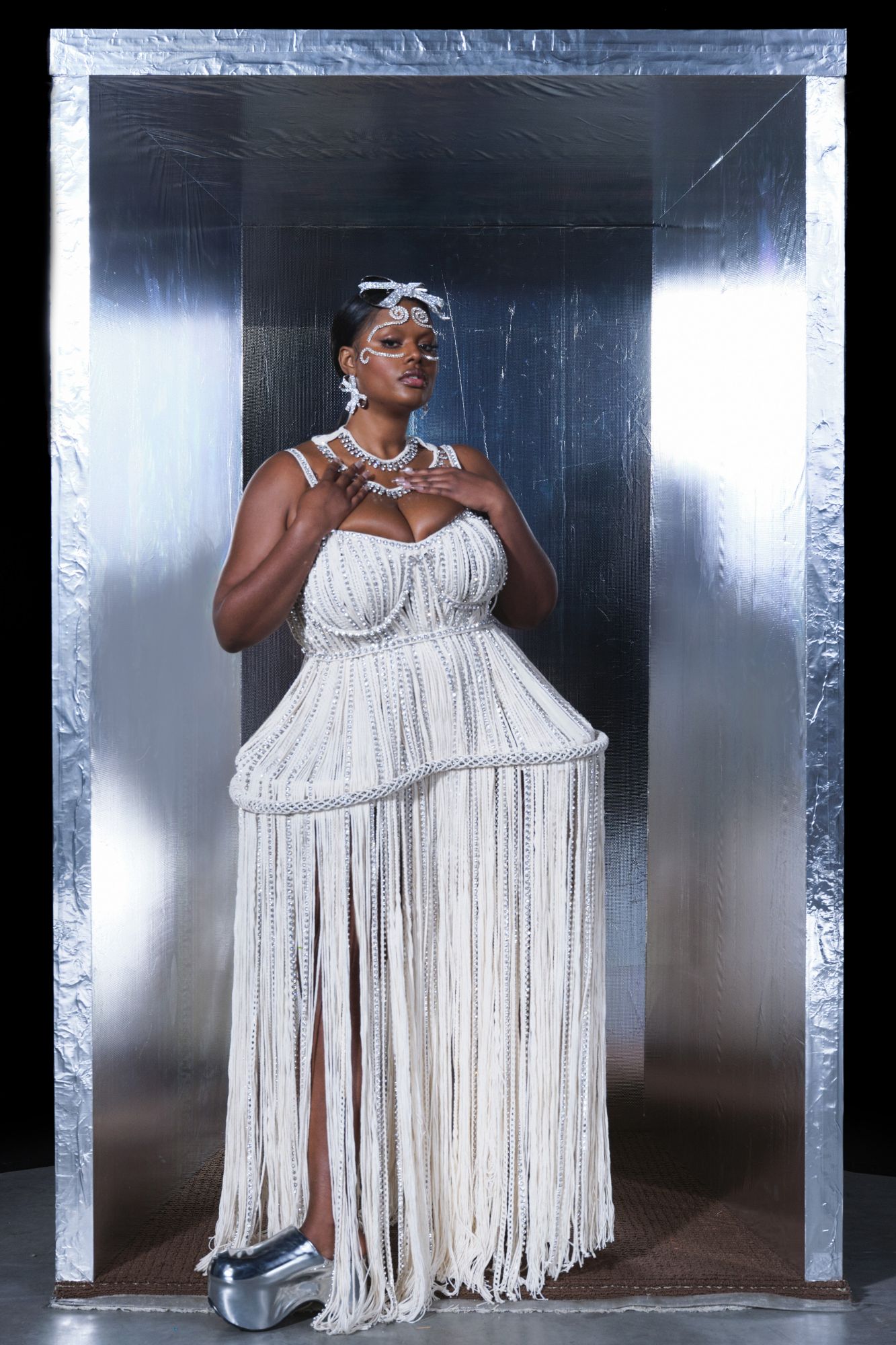 Area NYC: The show-girl crystal studded brand beloved by global superstars like Beyonce and Blackpink launched its first couture collection this season, which in honesty is merely a hop and a skip away from their already-glamorous ready-to-wear. Equal parts audacious and girly, the 14-look roster of inspired by disparate cultures is an experiment in a more inclusive form of couture. 
S.R. Studio. LA. CA: Can denim be part of couture? The answer is a resounding "yes" when it comes to artist Sterling Ruby's first couture collection of amped-up Americana. Think pilgrim collars, dramatic denim and cloaks exploding with loose yarn. Another welcome disruptor to the European haute couture scene.