Alpine Style Fashion: 10 Alpine Style Outfit Ideas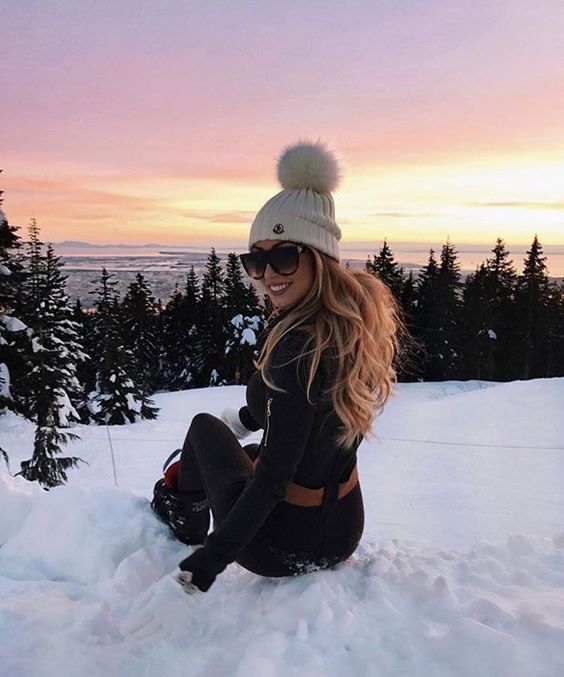 How you dress for winter says a lot about how you spend your time during the season. If you're the type who enjoys staying at home with close friends and family on the holidays, you might opt for festive pajamas or elevated casual outfits that mark the significance of holiday moments spent indoors. Or, if you're the type who likes to get out and about during winter, you might dress up in full holiday attire to take in the sights of your hometown, go to decorated shopping malls or walk down light-strewn city streets at night. Whatever your winter style, make sure you're prepared for all your winter activities.
What is Alpine Style
Staying warm and looking stylish, on and off the slopes
The popularity of winter sports increased rapidly in the 1920s as European travel became easier and small resorts like Gstaad and St Moritz were more accessible. For many people, skiing was more of a social event than it was a leisure activity. The high cost, remote locations and specialist equipment only allowed a select group of European aristocrats, artists, film stars and the super-wealthy to participate.
Inter-war couture was in full swing and as designers envisioned dress codes for a new age, they saw the opportunity to take their style to the slopes. Fair Isle knits and jerseys, popularized by Coco Chanel's British aristocratic-inspired designs, were often worn with long woollen trousers or skirts. This Golden Age of couture allowed designers to create unique looks that were both practical and stylish for those enjoying the slopes.
As more and more people were enticed by the allure of the slopes, fashion houses took note. Throughout the '30s, brands and couturiers such as Jean Patou and Hermes each began designing their own ski wear lines. This caused an avalanche of style to sweep through the Alpine resorts where the Jet Set were setting up camp and building chalets.
Ski wear changed for the better when Emilio Pucci, an Italian former competitive skier and air force captain, designed the first one-piece ski suit. His designs were more figure-hugging than traditional ski styles, and they featured bright, dazzling patterns and a stirrup to keep pants pulled tight into boots. Pucci started out his design career crafting aerodynamic competitive uniforms for Oregon's Reed College ski team.
In 1952, two ski-wear companies changed the game forever: Moncler (famous for their down puffer jackets) and Bogner, whose slim-fit stretch ski pants in a rainbow of bright shades became the style to be seen on the slopes. Icons such as Marylin Monroe and Brigitte Bardot were fans of the style, which was exported back to the streets in the 80s and remains popular today.
These days, ski resorts have become a regular source of inspiration for fashion designers. They take note of the outfits skiers to wear every day and use this to inform their own designs. Moon bots, for example, have become a hugely popular item, thanks largely to their presence at ski resorts. This year, we're seeing a huge resurgence in the popularity of Ugg boots. However, the new designs are shorter and chunkier than previous versions, and girls around the world can't get enough of them.
Here are 10 ways to style your ski gear like a pro:
1. Fur Coat
Fur coats are a classic fashion piece that will keep you warm in even the coldest weather. They are soft and comfortable, and come in a variety of colors to match any outfit. Fur coats have become part of the alpine style due to their ability to keep you warm in the mountains. Whether you choose real or faux fur, you will be sure to stay cozy all winter long.
2. Big Ski Goggles
If you love skiing, snowboarding, or any other winter sport, you'll definitely need a good pair of ski goggles. Not only will they protect your face, but they're also a fashion staple. Many luxury brands have their own version of ski goggles, and you can spot them on a lot of fashionistas. So if you're looking for a great pair of ski goggles, be sure to check out the luxury brands.
3. The Jumper look
There's nothing quite like hitting the slopes on a warm, sunny day. Whether you're rocking a ski-themed jumper or just your favourite sunglasses, make sure to enjoy the sun while you can. According to recent trends, more and more brands are producing special ski jumpers with phrases like "ski" or the name of a mountain. So if you're looking to make a fashion statement on the slopes, keep an eye out for these new pieces.
4. Chic
There's nothing wrong with wanting to look chic on your ski trip. Here are some tips to help you express your fashionable personality even when you're all bundled up:
Big, bulky reflective sunglasses are a must.
Small studs and piercings can add a touch of femininity.
Dressing in light tones is another way to look elegant.
And don't forget your favourite lip balm to avoid chapped lips in the winter.
5. Overalls
These are great if you want something steady and practical. They have many pockets for all your belongings and are extremely comfortable. Choose brighter colours to stand out. Combine them with your favourite warm clothes underneath and we guarantee you a great time on the slopes.
6. The non-skier
In every group, whether it's a family or just a gathering of friends, there's always at least one person who couldn't care less about the activity at hand. However, that doesn't mean that they want to be left out of the fun entirely. They are privileged because they can wear whatever they want and they don't have to worry about comfort as much as the people participating in the activity. So high-heel boots are 100% a yes as well as big furry coats when it comes to alpine style.
7. Cropped jacket
Cropped jackets are a fashionable and practical choice when spending time in the mountains. They will keep you warm during activities such as hiking, skiing, and snowboarding. One important tip is to wear something warm underneath the jacket, as your back might feel exposed. Wear layers for maximum protection from the cold weather and combine them with high-waisted trousers.
8. The Barbie
This fashionable ski suit is perfect for anyone looking to make a statement on the slopes. The all-pink design is not only fun and cute, but also very feminine. Combined with your favorite black boots and helmet, this outfit is a true staple. You will definitely stand out from the crowd and create amazing photos in the snow. Love pink outfits? Click here to find out more about Barbiecore Aesthetic.
9. Monochrome
Monochrome ski suits are a dime a dozen on the slopes, but people usually go for them more for practicality than style. If you really want to make a fashion statement while skiing, go for a designer monochrome ski suit with fur hood or wrist details. These look great with chunky boots and come in all colors!
10. Moon Boots
The famous Moon Boots! They were popularized in the years following the Apollo 11 moon landing and resurfaced again as a retrofuturistic fashion choice in the early 2000s. Production of moon boots began in 2011 in Ukraine, at a rate of 700,000 per year. In late 2021 and early 2022, they made a huge comeback after being seen on celebrities like Hailey Bieber and Dua Lipa. They are not only fashionable but also super warm and comfortable. For the best effect, pair them with skinny jeans or leggings.
Do you love winter sports or do you prefer to cozy up with a mug of mulled wine in the cabin? And what's your take on the alpine style? Moon boots – yes or no?