6 Hot Prom Dress Trends for the Year Ahead • budget FASHIONISTA
It's best to start early when looking for the perfect prom dress, yes? I mean, it is one of the biggest nights of your high school career. And you want to take time finding the dress that is totally you — which means it solidly reflects your own personal style and your mastery of what's hot in prom dress trends.
Did that sound dramatic…or are you right there with me? I'm going to guess you're right there with me. In that case, you'll be thrilled to read on below about the spectacular prom dresses hitting the racks in the coming months.
Here's a look at the six hottest prom dress trends for the upcoming year.
1. Glass-beaded prom dresses
One of the most popular trends for 2023 is glass beading. Think of glass beads as a more sophisticated sequin. They deliver sparkle and color with a vintage vibe. It's a stunning effect. You, in a glass-beaded dress, will capture all eyes.
Glass beads can cover the entire dress or just one area as an accent. You'll often see the beading at the neckline or around the waist, for example. The best part is, you can find glass beads on dresses of every style and color. So you're sure to find an option that suits your body type and your personality.
2. Boho prom dresses
You can recognize Boho style by the long, flowing silhouettes, combined with floral patterns, tiers, fringe, or embroidery. The boho prom dress trend takes those elements and formalizes them. The result is a gorgeously feminine piece that's also free-spirited, a la the 1960s and 1970s, when Boho style first originated. No constricting corsets here!
3. Neon prom dresses
2022 was a breakout year for bold colors at prom. You saw neon pinks, sunshine yellows, and hot-flame oranges. In 2023, that trend will continue. So don't be shy about wearing the brightest, boldest dress you can find. Anything is on the table. Electric orange? Yes. Neon green? You can pull it off, for sure.
The key here is to feel 100% confident in your dress, because you will get attention. You should love the way your bright dress fits and moves.
Clear shoes and dainty jewelry will accessorize a bright dress perfectly.
4. Lace prom dresses
Feeling romantic? Layer up in lace for a floaty, princess look that's just right for a night to remember.
Lace has always been a popular choice for formal gowns and that's not about to change. It's both elegant and on point.
If all-over lace feels too bridal, opt for a dress with lace edging instead. Or, try a two-piece prom dress with lace. Separates break up the lace and are a touch more casual.
5. Mesh prom dresses
Mesh is one of my favorite prom dress trends, because it's so versatile. You'll see mesh incorporated into formal gowns as panels — they give the impression of a cutout, but are more forgiving. Or, some prom dresses will have mesh sleeves, mesh overlays on the skirt, or all of the above.
Whatever the application, mesh is always alluring. Think of mesh as lace's sexier cousin.
6. Satin prom dresses
I can't talk about prom dress trends without mentioning satin. Satin is a mainstay of prom dress fashion and for good reason. It's luxurious and lustrous. Satin captures light and drapes like no other fabric.
Most satin prom dresses will be floor-length. That length, along with pleats and/or ruching maximizes the visual impact of the fabric. You don't need much else to have a stunning formal gown.
When shopping for a satin prom dress, your most important decision is the color. Take the time to select a color that flatters you under various types of lighting. Then, as long as the dress fits you properly, you're sure to be a knockout on prom night.
Your best accessory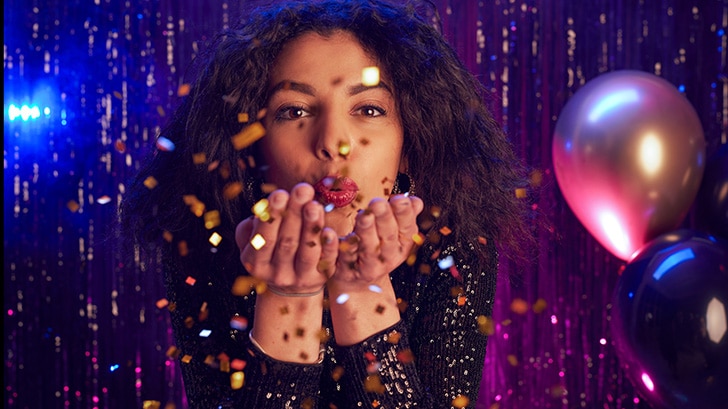 Your best accessory on prom night (and most other nights too) is confidence. You want a dress that looks gorgeous and on trend, of course. But more than that, you want a prom dress that makes you feel unstoppable. Because confidence creates the perfect backdrop for bigger smiles, louder laughs, and better memories.
Finally, if your dress budget is tight, you may want to see my post on budget prom dress shopping.