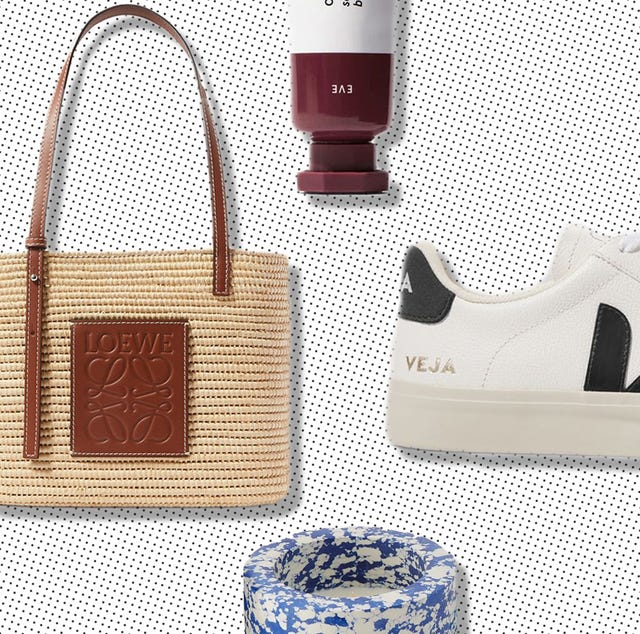 Getty Images
Welcome to our monthly fashion, beauty and interiors and product round-up. Every month, we'll update ELLE Recommends with our favourite things to buy that are currently on sale.
Ahead of a new month, ELLE's editors will come together to search for the best gifts to treat yourself or your loved ones, whether it's a new candle set and designer piece of jewellery, or the latest must-have summer dress or this season's go-to handbag. Using our expertise across fashion, beauty and homeware, we'll curate the perfect list of products we think are worth investing in each month, to ensure you're kept up-to-date with the latest trends and know what's really worth spending your hard-earned cash on.
Here is our list of the best things to buy now:
Advertisement – Continue Reading Below
News Editor's Pick
Scent Surround Diffuser – Pomegranate Noir
It's been a year of lockdown… and a year of my Jo Malone reed diffuser keeping my flat smell nice. I honestly can't believe how long it's lasted (and how long it still has left to go in the jar). I can't wait for the instant 'oooh what's that lovely smell?' compliments to roll in again when I'm finally allowed friends over.
Art Director's Pick
Large Cabbage Bowl
Bordallo Pinheiro
libertylondon.com
£117.00
Dinner parties. People. Huge dinner parties with loads of people. That calls for beautiful crockery that is at home in the park (please no) as it is on your table. Roll on June 21. 
Fashion Director's Pick
Cashmere lides
Gabriela Hearst
net-a-porter.com.uk
£490.01
I'm going to ease myself into office life by investing in what are, essentially, super-luxe slippers. Gabriela Hearst is the designer of the moment thanks to her recent Chloé debut; beautifully crafted shoes are one of her signatures. 
Art Editor's Pick
No. 0 Intensive Bond Building Hair Treatment
OLAPLEX
cultbeauty.co.uk
£26.00
Since the hairdresser visits have been so infrequent this past year I have been keeping my hair strong and shiny with the No.0 Intensive Bond Building Hair Treatment from Olaplex. Combined with the No.3 Hair Perfector (sold separately) it leaves my hair feeling soft and nourished. Now I just need that after lockdown haircut.
Acting Beauty Director's Pick
Thé Noir 29, 50ml
It's near impossible to describe a fragrance in words but if you've ever raided your Edition Hotel room mini toiletries, or just walked past their lobby and noticed an insanely beautiful scent wafting out of the doors, this is it. Almost. 
That Le Labo fragrance is solely made for the hotel group (and not available to buy, yet) but this is damn close. Smoky, sexy, and little bit sweet. 
Picture Director's Pick
Printed Trousers
Arket
Loose, printed trousers have become my lockdown wardrobe obsession. I love this pair from Arket – the monochrome pattern paired with a simple button-up will be perfect for a seamless transition back to office attire, without losing the comfort I'm reluctant to give up!
Acting Beauty Director's Pick
Swirl Ball Scented Candle
Candles don't get more exciting than Tom Dixon's – fact. This genius geranium and moss-scented creation is made from residual dust from the marble industry and can be re-used once you've burnt your way through the candle as a chic pen holder or small vase. Simply top with the accompanying marble ball for a candle that doubles up as a coffee table centre piece. Eco-friendly and upping my interiors game? I'll take two.
Executive Editor's Pick
Bahia De Miel Candle
Two things are true for me right now: I'm still spending most of my leisure time in my own front room, and long-haul travel remains a distant dream… So I'm clinging to treats like this delicious candle from Beauty Pie to make both facts more bearable. Its sweet, woody scent puts me instantly in mind of pine-fringed beaches and sultry nights. And thanks to Beauty Pie's buyers' club pricing, it's a lot cheaper than a plane ticket… 
Acting Features Editor's pick
Rubies Boobies gold-plated necklace
With video calls showcasing our neckline like never before, I like to use the attention to make a statement. This gold-plated necklace features a bust of a woman and is a chic piece of jewellery while also bringing a dash of humour. I like the fact that when someone notices the detail, it never fails to bring a smile to their face.
Acting Bookings Director's Pick
Cloud Paint
Glossier
Glossier – £15
If you're wanting a pop of colour, even on a no make-up day, Glossier's cloud paint is a must for all skin tones. It's my go-to cream blush that gives such a seamless blend! My bored lockdown cheeks are looking forward to debuting the new mulberry shade, EVE, on June 21.
Group Luxury Travel Director's pick
Gathered High Collar Midi Dress
In preparation for the start of al fresco dining in April (yay!), I'm planning on snapping up this mid-length beauty, with long sleeves and a high neck to keep warm on cool spring evenings. The romantic floral print is best paired with red lipstick and a crimson manicure.
Senior Social Media Manager's Pick
Printed wool-blend felt headband
Fendi
net-a-porter.com.uk
£220.00
While I can't wait to forget everything about the last year, one thing I will be taking back with me to 'normal' life is my love of great headbands. It might have become my go-to accessory to add a little more pizzazz to joggers and turtle necks (a classic wfh look) but I can't wait to wear them with dresses to see actual people. I've got my eye on this Fendi one.
Acting Digital Editor's Pick
Loewe + Paula's Ibiza small leather-trimmed woven raffia tote
Loewe
net-a-porter.com.uk
£425.00
If this doesn't scream 'get me on holiday', then I don't know what does. After a year spent dreaming of drinking Vermentino on a sun-soaked veranda in the Mediterranean, I can't wait to take this tote on my first mini break in 2021. Made in collaboration with the famous Paula's Ibiza boutique, this spring/summer essential is made from natural raffia and features brown leather straps to complement the logo-stamped patch at the front. I plan to team it with this Stella McCartney jumpsuit and a pair of sliders.
Chief Sub-Editor's Pick
Campo textured-leather sneakers
Veja
net-a-porter.com.uk
£115.00
Let's face it, we've all been living in trainers. As the weather gets drier (fingers crossed), I'll be bringing out my white Vejas for post-lockdown picnics, to look like I've made an effort when really I've just swapped one pair of trainers for another…
Deputy Chief Sub-Editor's Pick
Silk Sleep Mask
Drowsy
drowsysleepco.com
£49.50
Maybe it's pandemic-induced stress, or maybe it's the pure excitement of being able to go out for dinner again soon – either way, I've had real trouble sleeping recently. Then I discovered this. The squishy, wraparound style is weird but so comforting, and it doesn't slip off my head during the night, like every other mask I've tried.
Oh, and a tip – before bed, try spritzing it with Drowsy's Sleep S.O.S Pillow Spray. It's the best I've tried and you'll be out like a light. Trust me, it's a dream combo. (Pun intended.)
Fashion Features Editor's Pick
Chopova Lowena skirt
Chopova Lowena
Matches Fashion
£879.00
There isn't a fashion editor I know who isn't fawning over Bulgarian-British brand Chopova Lowena, whose signature leather-belt skirts tick the box for sustainability and style, made ethically using deadstock fabric. 
Now that we're creeping towards freedom, ready to hit galleries and restaurants from April 12, it's time to pay attention to our lower halves after spending months on Zoom. No better way to re-enter the world than wearing a feel-good style like this.
This content is created and maintained by a third party, and imported onto this page to help users provide their email addresses. You may be able to find more information about this and similar content at piano.io
Advertisement – Continue Reading Below