10 TikTok-Inspired Festival Fashion and Beauty Looks to See You Through the Summer
Festival season is upon us and TikTok users are celebrating by sharing the looks they'll be wearing. Read on for style and beauty inspiration.
Festival Makeup
The hashtag #festivalmakeup has proved popular, accumulating over 25 million views for videos by makeup artists and other beauty posters. Some of the looks are more easily replicable than others, however, with makeup artists spending hours on elaborate masterpieces.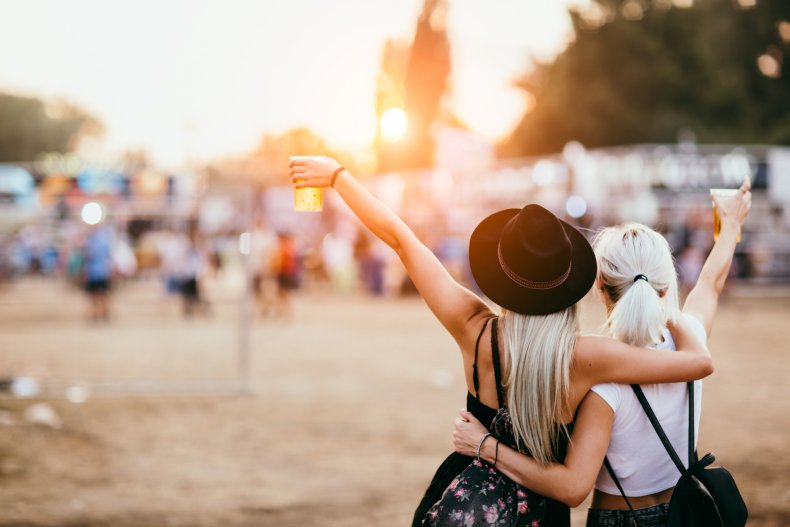 Inner Corner Pop of Color
Instead of highlighter, many TikTok users are opting for a small pop of colorful eyeshadow in the inner corners of their eyes.
Typically, makeup artists suggest adding a little highlighter to this part of your eye to make you look instantly more awake.
This hack does the same, but the color can make your look much bolder with little effort or technical skill.
Makeup artist Caitlin Durling's video sharing this tip has been viewed over 24,000 times.
Reverse Cat Eye
This is the makeup trend taking TikTok and Instagram by storm and it makes for a fierce look—as demonstrated by Alice King, whose video has received 1.8 million likes and 11.5 million views.
Instead of lining your top eyelid, line the bottom lid under your eye.
Be sure to take your eyeliner all the way to your inner corner, and wing it out from underneath the outer corner.
Blend with some eyeshadow and add false eyelashes for extra drama.
Bright Eyeliner
Swap your traditional black liquid eyeliner wing for something more colorful. This is an easy way to give your look more of an edge without putting in too much effort.
Video creator Kirsty Belle used a pretty pink liner in her clip, which has been watched almost 200,000 times.
Glittery Eyes
It wouldn't be a festival look without glitter. You can use shimmery eyeshadows, glitter eyeliners or face gems to create an eye-catching look.
Makeup artist Emily Temby's glittery festival looks are among her most popular videos on the app, with one racking up 1.4 million views.
Glow in the Dark Makeup
Adding a glow-in-the-dark element to your makeup really takes it to the next level.
TikTokker Carolina showed off her glowing look while lip syncing to "Dreams" by Fleetwood Mac.
The pale pink outline above her cupid's bow and the butterfly wings next to her eyes look cute in the light, but once the lights go out you can see the full stunning effect.
Color Coordinating
Another way to make your look stand out is to think about the entire package. Match the colors you're using in your makeup to your outfit or even your hair.
TikTok user @pralinakarina shared a video with her 1.3 million followers in which she matched her bright orange eyeshadow to her orange crop top.
Beauty and fashion content creator Sophie Hannah took things one step further, adding a neon green wig, green earrings and green top to go with her green makeup.
Festival Fashion
Fashion tips for festivals have proved even more popular on TikTok, with 190 million views for videos using the hashtag #festivalfashion.
Bralets As Tops
Festivals have developed a reputation as places to try more daring outfits. This year festival goers are daring to bare as friends Keeley and Cydney demonstrated in a video showing off their favorite festival looks.
In a number of outfits in their video, which has been watched 930,000 times, they can be seen wearing bralets not too dissimilar to a bikini top.
Sheer Bottoms
Other adventurous TikTok users have opted for sheer pants and skirts.
Nicole Fitzpatrick wore sheer pants, a sheer skirt and a chain skirt in her video, which has clocked up over 2 million views and over 200,000 likes.
Coordinating Sets
TikTok users are loving the matchy-matchy look, with a number of videos showing off the best matching tops and bottoms to wear to festivals.
Hannah Ronan's video shows her trying on three different matching sets and has been viewed over 320,000 times.
Sixties Inspired
The 1960s will forever be associated with music festivals, so you could try a retro look emulating the decade's fashion trends.
Summer Rachel Warren channeled flower power in her outfit video, which has been viewed over 45,000 times.